A round up of some new (and newish) releases including the new batch of Traigh Bhan from Ardbeg, a clutch from the ever-excellent Lady of the Glen, a brace of Glengassaughs, the first bottling from the guys at Simply Whisky, and an extremely covetable Laphroaig from Single Malts of Scotland. There's smoke, richness, delicacy, youth and age. Something for everyone in fact. 
Brand: Ardbeg 19year old Traigh Bhan, Batch 2, 46.2%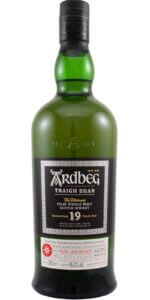 Nose: Starts off as with pretty classic Ardbeg aromas of lime marmalade on burnt toast before more phenolic (tarry) elements emerge. There's some smoked pear and cream (if such a thing exists … and if it doesn't it should) adding some creamy juiciness before things take a drier turn – nori, hemp rope, potato sack, pu-erh. Arbeggy oils save it from becoming too dry. Water slightly closes things down before you get a big hint of eucalyptus/wintergreen/heat rub.
Palate: Very soft with raisin and date adding to a thick and slightly oily feel. The smoke is now in the creosote area along with roasted elements and some light barley. Water smooths things even more – maybe a little too much? – at the start, so that when the smoke does emerge it is bristling with the effrontery of being placed in a subordinate role. Prunes and salted tablet.
Finish: Long, powerful and, somehow all the apparently contradictory elements are resolved. 
Conclusion: A vatting of American and ex-oloroso and now, thankfully a permanent member of the range, albeit in limited amounts – they give with one hand, they take away with the other. Seek it out. You won't be disappointed.  
Rating: ****(*)
Brand: Caperdonich 22 year old, Lady of the Glen, 60.5%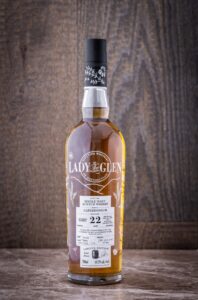 Nose: There's a little buzz of alcohol here behind white peach, spun sugar, iced buns and  light strawberry mousse. A touch of dried grass gives balance. Lively and increasingly floral (arum lily). With water there's some linseed oil, custard apple, tinned pear and, remarkably given its age – a green note.
Palate: This is pretty hot so I dropped the water in early, though it's hard to reduce the burn without losing the fruit. The green element now turns to fresh herbs (lovage, mint, sweet cicely, nasturtium), cinnamon powder, and soft fruits remaining in the centre. In time, there's some marzipan and rose-scented soap.
Finish: Unripe peach.
Conclusion: High tea at Rothes cricket club. Great to see some Caper.
Rating: ****
Brand: Dailuaine 12 year old, PX hoggie finish, Lady of the Glen, 56.£%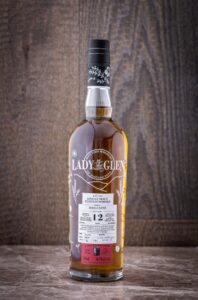 Nose: There's a sweet fleshiness to Dailuaine, and here a hint of meaty depth. The PX therefore makes a good companion and is lightly handled adding fig and raisin to what is a rich and slightly savoury mix. With water there's some coffee cake, and milk stout and more of those ripe yet dry fruits (raisins, sultana and candied peels). Like it.
Palate: This is already exhibiting solid maturity and has a lovely balance. There's a pleasing chunkiness to it – loads of sweet black cherry, mulberry jam, leaf mulch. PX has the ability to slow a whisky down allowing it to stick to the palate. It becomes more prominent when water is added – there's raisin and grape jelly to start with the sweet meatiness of the distillery coming in later – a reversal of the norm.
Finish: Ripe and plummy. Flies' cemetery (that'a fruit slice for the non-Scots).
Conclusion: Great balance and complexity. Heartily recommended
Rating: *****
Brand: Glenglassaugh 10 year old (2009), cask #1346, Coastal Cask Collection, 54.7% 
Nose: Has a slightly unusual nose that flickers between mineral and animalic with some toasted walnut, cheese rind maltiness and floor polish. In other words, it's not conventional but is certainly intriguing. With water you lose the weirdness and get more cereal and Bramley apple.
Palate: Only a decade in cask and already funked up and mature. There's coconut, digestive biscuit laid on top of the leathery quality. While hot, there's a suggestion of softening in the middle. There's a breadiness with water, and as the heat subsides some grassiness, lemon zest, and pineapple tart.
Finish: Hazelnut, rhubarb, and ginger
Conclusion: Not maybe what you expect but that's the point, isn't it? Part of the new Coastal Collection. Distillery-only bottling so you might have to be patient.
Rating: ****
Brand: Glenglassaugh 10 year old (2009), cask #559, Coastal Cask Collection (Peated) 55.9% 
Nose: Drying, earthy smoke, smouldering oak and pine, over green fruits. There's also some sweetness from the oak as well as a nutty element and an aroma that reminds me of white pudding. Water there's coal smoke/chimney, but also creaminess. It's a little bit all over the shop. 
Palate: Immediate, drying smoke, with some red (barley) miso working as a counterpoint to a sweet, brioche-like, butteriness. Has good presence with soft fruits, some hazelnut butter and muesli with honey. Water is, I think, advisable as it further softens the effects, brings in some pepperiness but bonding the disparate elements together.
Finish: Vanilla, cigar smoke and pepper.
Conclusion: There's a lot of voices all shouting at once, but water helps to calm the cacophony.
Rating: ***(*)
Brand: Laphroaig 24 year old, Single Malts of Scotland, 51.8%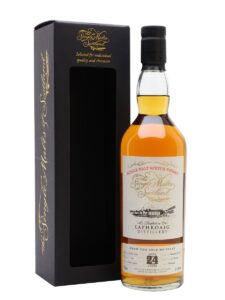 Nose: This is very SMoS to start. Tropical fruits? Tick. Smoke? Tick. That said, the latter is pretty shy to start with – more of a hazy shroud over the guava and melon, but then the embers start to glow and the phenols gradually build along with lanolin, heather, hickory.  Water adds in vanilla and the smell of a coconut shell on fire.
Palate: Relaxed. Actually, it's slightly drier than you expect from the nose with less of the fruit and more dried herbs (dill, thyme) then a sootiness similar to Ardbeg's. A much puncher proposition than the aroma suggests. Water adds a new drier structural element along with the coconut and finally a medicinal note.
Finish: Pul biber and smoke.
Conclusion: There's real elegance at work here – especially on the nose.
Rating: ****
Brand: 'Let's Dance' 8 year old single malt, Simply Whisky, 51.6%

Nose: A burst of fresh, soft fruits (kiwi, and green grape especially), with single cream poured over them, then you get some honeycomb, ginger snaps, and, in time, a drier earthier element – dry leaves, Jerusalem artichoke. A slightly steely back note is removed with a judicious addition of water – now  it's all about the fruits, custard powder, and lemon posset.
Palate: Juicy and plump. There's fleshy fruit, and grilled pineapple in the middle, and an oaky/mineral dryness on the end. Water makes it spicier – that ginger element becoming more prominent, plus lime, ice cream float, and trifle.
Finish: Lucozade, raspberry, pear juice.
Conclusion: A fruity wee charmer from Simon and Franchi. Great for its age.
Rating: ****
Brand: Tomintoul 15 year old, amontillado finish, Lady of the Glen, 55.7%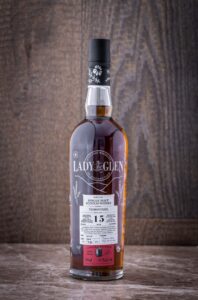 Nose: The sherry has given a huge contribution to the colour, and what's more it's decidedly amontillado – all harp orange peel, roasted almonds and chestnuts, and tobacco while a nuttiness acts as a bridge to the distillate's notes of pinhead oatmeal. Layered, with some weight. Dries nicely with water with more marmalade and bodega notes
Palate: The sherry pushes forward again giving a highly resinous quality along with cardamom/tamarind and walnut. You couldn't accuse it of being shy. Water ups the sherry even further and things take an oilier turn alongside cereal, and candle-wax smut.
Finish: Nutty.
Conclusion: More of a whisky-accented sherry, which is no bad thing, but probably only for one glass per session. 
Rating: ***(*)