2021. Batch 1 Beauty Comes in Threes
Sorry for the hiatus…anyway, here we go again, and what a start with three venerable drams, two grains and one from the soon to be resuscitated Rosebank. Read on… they are all belters. 
Brand: Girvan 29 year old (1991), Watt Whisky, 56.5%
Nose: Fine boned. A lightly floral, pleasantly powdery quality to start, with the sharp, zesty sweetness of lemon curd, fresh rhubarb, and a tiny touch of oak. In time, you get some peppermint (Kendal mint cake) alongside light vanilla and that tight focus which often comes with grain. Water shows a greener edge (yes, it's still fresh after all that time), but the cask quietly starts to assert itself, leaving you with a mix of lime and coconut. 
Palate: The fact it starts sweetly hardly comes as a surprise. There's undoubted heat, but the citric and floral freshness and mint seen on the nose continue unabated. Now, however, there is some apple, and cream being added in. The mid-palate is more 'grainy' in flavour, while a mildly oily texture begins to develop. Good concentration. By reducing the heat, water gives things greater coherence, softness, and slightly more substance – think tablet, lemon meringue pie with whipped cream, and the steady development of some tropical fruit.
Finish: The floral elements return.
Conclusion: There's a lot contained within this in seemingly flimsy frame. Lovely balance and at its best when lightly diluted. Nice stuff (again) from Watt Whisky.
Rating: ****
Brand: Invergordon 45 year old (1974), Single Cask Nation, 46.9%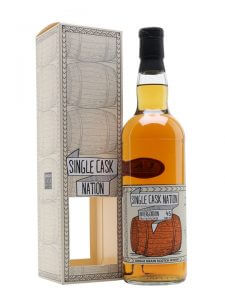 Nose: Light both in colour and delivery, which is a bit of a surprise given the four decades this has spent in cask. Some things don't change however, such as the distinctly rummy notes which Invergordon develops over time. There's banana, kiwi, melon, ginger, and whitecurrant syrup, and while some spiciness has been retained, it's balanced by a polished, buttery element and some sweetened coconut cream. It needs plenty of time to open and build. Given time to breathe, you get sugar cane juice, candy floss, and raspberry leaf, and while water introduces an oxidised element, you never leave the beachside bar. It's rum. Tell me it's rum.
Palate: A sweet, time-concentrated mix of mango and guava, then some crystallised fruit, alongside some of those bananas seen on the nose. Becomes more estery in the middle of the tongue before the coconut element reasserts itself, with a touch of cask that becomes more apparently when water is added. There's now a light cashew element and, like the Girvan, some tropical elements. Lovely stuff.
Finish: Rounded, medium length. Sweet. 
Conclusion: Invergordon distillery is 60 years old this year. This is further evidence of how good it is when given plenty of time in cask. 
Rating: ****(*)
Brand: Rosebank 'Fascination' 21 year old, Single Malts of Scotland, 49.5%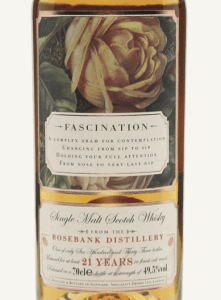 Nose: The aroma of fresh, dew-heavy flowers, (frangipani, jasmine, honeysuckle), backed with pineapple, a lick of cream, tangerine zest, and white chocolate. Then comes an effervescent spiciness: freshly grated ginger and galangal. A little water raises the higher tones, adding in some crab apple, quince syrup, and apple eau de vie, mixed together with white cherry, mirabelle,  light nut, and meadow hay. Overwhelming, and yet delicate. 
Palate: Very sweet again. It hardly touches down on the palate. It's Iike one of those quiet ECM albums, a continual, discreet, complex interplay of tones which barely seem to disturb the surface. An enveloping, silky texture. The mid-palate is candied pear, water mint, peach blossom, apple, and wild rose. With that drop or two of water it becomes sightly vinous – light and fragrant, a gentle petillance, lacy in texture. Only late on do you get a suggestion of age. Despite its freshness this is a whisky which has lived, and yet wears this maturity lightly. Less a whisky than a sensory and sensual experience.
Finish: Creamy and gentle.
Conclusion: Rosebank at its best (which this quite definitely is) seems to exist in a different dimension, one where whisky's rules and don't seem to apply. It leaves you at a loss because it refuses to conform, something shared with Clynelish. It is a whisky which, rightly, challenges the reductionist approach of The Tasting Note. You can't simply list flavours here, you have to talk about where it takes you – to to sunny spring days, the drift of perfume from the flowers, the world shifting and shimmering in a haze.
Rating: *****