Whisky Tasting Batch 5: Ardbeg, Rosebank, Waterproof
A trio of new arrivals, one of which now seems strangely appropriate given the enforced change to my circumstances. Ardbeg's full-strength version of this year's Ardbeg Day dram has been aged in New Zealand Pinot Noir casks. As I have been consuming vast amounts of this wine (while wearing the finest Icebreaker clothing) I now feel at one with all elements within its smoky depths. 
There's also the first release from Rosebank's new owner Ian Macleod and what a beauty it is, plus a sherried blended malt from MacDuff which will certainly trigger plenty of  conversations with its name and pack – and we've plenty time for chat these days. 
There may be a slight hiatus in terms of new releases, but the Lockdown Liquor cabinet is opening, so stay tuned. 
Brand: Ardbeg Blaaaack, Committee Edition, 50.7%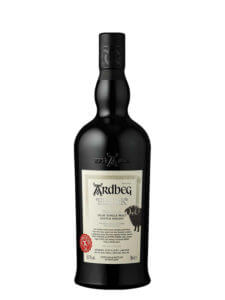 Nose: Any thought that the cask might obscure the smoke should be dismissed immediately. This kicks off phenolic – like being stuck behind a tar lorry – then comes liquorice and oddly, but rather excitingly, a hibiscus-like top note, pomegranate molasses, cedar and blackberry. Water brings out a more biscuity element alongside black cherry and parma violets. Ripe, robust, and smoky.
Palate: The smoke now seems more tethered by the cask which begins to come more into play. Ripe, plump black fruits starts, then the smoke kicks in adding a dry counterpoint. The fruit then returns, more concentrated now, before an ashy/sooty back palate. There's no great heat given the strength. Water pushes it onto the slightly more vinous and jammy side. 
Finish: Long, and smoked, then dark fruits.
Conclusion: I shudder when I think of the sheep jokes that Bill Lumsden is going to make. Great balance. 
Rating: ****(*)
Brand: Rosebank 1993, cask #433, 53.3%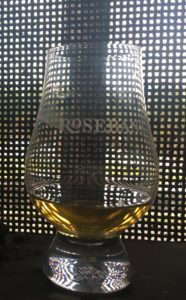 Nose: Deliciously juicy fruits: peach juice dribbling down your chin, mango, then banana chews, rhubarb & custards (sweets not pills), day lily, orange jelly, then passion fruit with lime juice. As you lift the glass to take a sip there's some (Wall's) ice cream. Water brings out a little fresh pencil shavings and doughnut glaze. 
Palate: As succulent and sweet as you expect. It has this very Rosebank mix of oiliness and precision. Delicate, yet with a softly gentle complexity which mixes those fresh fruits, floral notes, agave nectar and almond before moving to ginger and lemongrass towards the back. Brimming with energy and quite bracing acidity. Water brings the ginger elements further forward.
Finish: Apple crumble topped with Demerara sugar and vanilla custard, then back to those fresh fruits.
Conclusion: Distilled in the last year of Rosebank's previous existence as a reminder of what we have lost, have been missing – and will soon regain. There's only 280 bottles. Grab it while you can.
Rating: *****
Brand: Waterproof, 45.8% (blended malt)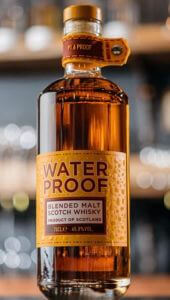 Nose: Big, soft and sherried mixing oloroso with a PX-style sticky raisin element. There's cake mix/cookie dough, tinned prunes, cold Darjeeling tea and the zip of orange peel. Sweet and rich.
Palate: Thick and glossy with a slightly stewed fruit quality to it. Treacle, raisin, and a mouth clinging texture – though there is a subtle structure underneath stopping it getting too gloopy. It's not waterproof at all, but instead of straight dilution, I'd lengthen it into an Old Fashioned or Bobby Burns. 
Finish: Light chocolate, then rum and raisin.
Conclusion: 'Waterpoof' has something to do with Mackintosh (the one in the raincoat not the artist) that somehow links Scotland, rain, water, protective clothing, and whisky. The label is bright yellow ribbed rubber, which is something  never thought I'd ever write in this context. 
Get past all of this and you find a lovely dram. It's great to see a blended malt which isn't on the American oak side of things, but has gone down a more old-school route. It's the whisky equivalent of an impeccably dressed, hip, older Japanese gent. A comfortably reassuring armchair dram which I'd happily sink a couple of.
Rating: ****