NEW WHISKIES BATCH 5: Four Corners of the World
A quartet of new whiskies from around the world: Australia, Ireland, Norway, and Scotland. Single malt, single pot still, single estate; Port casks, first fill and refill; youth and age; Jane Austen and Norse gods … Welcome Bivrost, Glenmorangie, Redbreast, and Sullivan's Cove
Brand: Bivrost, 'Niflheim', 46%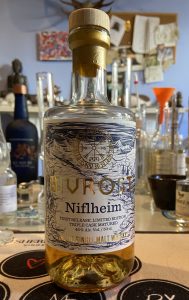 Nose: While a youthful, green sharpness comes over initially, a malty note emerges alongside lemon (peel and pith) as things settle. When they do, you get a little almond and hazelnut, some cold pastry, then a dill-like back note, before yellow fruits begin to emerge and away in the back some sultana like sweetness (possibly from sherry casks). 
Palate: Much sweeter than you'd think from the nose and considerably softer too. While the green sappiness of youth never fully disappears (hey, it's three year old), it's what happens in the mid-palate that is important – this is where a young whisky's potential is contained. As it matures, so it will spread from this central point. 
Here, you're already getting sweet pear and that malty/barley dryness. With water, there's  some maple syrup, and dried apricot. There's a lovely interplay between the dry and malty, and the soft and yielding fruits.
Finish: Though slightly tense, things loosen with water.
Conclusion: The first release from the world's most northerly distillery, Aurora, near Tromsø, this is the first of nine bottlings, each named after the Nine Realms of Norse myth [Niflheim was the realm of darkness, cold, mist, and ice] leading up to the release of the main Bivrost brand in 2025. 
Triple distilled from a mash of Nordic barley and pilsner malt, fermented with a lager yeast, then aged (separately) in ex-sherry ex-bourbon, and virgin oak. There's immense promise here. Only 1622 bottles. Scored in its competitive set.
Rating: ****
Brand: Glenmorangie 15 year old, The Cadboll Estate, 43%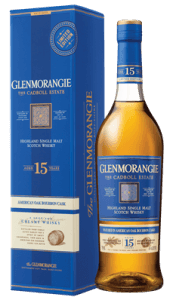 Nose: This is quite pineappley for Glenmo': (upside down cake, tinned pineapple). There's cinnamon sugar, light agave syrup, then some jasmine and night-scented flowers. Heady and rather gorgeous. There's no loss of aromatic intensity with water – rather another layer of light oak, and citrus develops. Like sitting on the lawn on a summer's day in Regency times.
Palate: A very gentle start, with more vanilla (Jersey ice cream) before the floral elements gently rustle forward bringing with them a touch of exotic fruit. With water you pick out some some spice and more tangerine, but it is a lot lighter and more discreet than the nose suggests. 
Finish: Sumac.
Conclusion: Only available in US/Canada/Mexico, this is made from barley grown at Glenmorangie's own estate close to the distillery. An exercise in restraint and elegance. It's all very Jane Austen.
Rating: ****
Brand: Redbreast Dream Cask 28 year old, Ruby Port Edition, 51.5%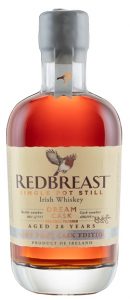 Nose: Immediately and identifiably Redbreast, with a thickening stew of cooked plum, blackcurrant/loganberry, sloe, ands a tiny touch of soft chamois leather/box-fresh trainer. Things then become scented and more spice-driven, with a coffee bean element in the back. Extremely sophisticated.
Palate: Freshly beeswaxed furniture mingles with cooked black fruits, basil, mint and rosemary and a richly unctuous, clinging quality than makes you physically move it around the mouth. Water increases this quality and adds further layers: fresher fruits, then the bittersweet elements of black cherry and sloe, the savoury headiness of clove and barberry, some ciogar box, then the reassuring silky familiarity of blackcurrant cordial. On one hand everything is reduced to an essence on the other it is hugely expressive.
Finish: Violet chocolate and rich fruit.
Conclusion: Three elements here, aged for a minimum of 28 years in ex-Bourbon, ex-sherry and ruby port. The first two elements were then decanted into the port cask for a short period. 
Every so often you find a dram that makes you say 'this is why I love whiskey.' This is one of those. If only I had a spare €490. Stunningly great whiskey.
Rating:*****
Brand: Sullivan's Cove American Oak single (refill) cask, [TD0082] 47.2%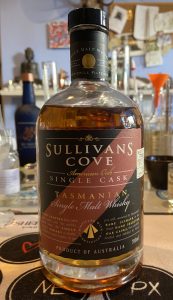 Nose: A dry start with touches of coconut, mixed nuts and a roasty-toasty maltiness, milk chocolate before a sweeter, more fruit-led layer comes more clearly into focus: apple. With water is really blooms: nutmeg and cinnamon fruit, orange peels.
Palate: A gentle apple, pear plus flapjack-like sweetness and crunch. A lot going on here but it is balanced extremely well. The vanilla pod notes of oak are there, but more as a frame than the leading character. Water helps the palate, there's malt, darker fruits, roasted pumpkin, ginger snap biscuits, rhubarb, then apples. Hint of char.
Finish: Quite dry with a hint of neroli.
Conclusion: The fact that this is aged in a refill cask mean the substance found here is coming from the distillate and not the oak. An important whisky in Australia's continuing evolution. More refill! 
Rating: ****