Batch 9: Bramble Whisky Co & Dram Mór
A double double this week. Two from the estimable Bramble Whisky Co., in Edinburgh and a brace of Dram Mór's. Inevitably there's a Ben Nevis. 
Brand: Ben Nevis 14 years old, Dram Mór, 46%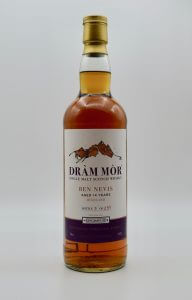 Nose:  Ben Nevis often has a meaty quality, and this one comes over like a mutton (Scotch) pie. There's wet reeds, honey, and slightly more malt than is common. To keep things keep on the culinary side we move into pea and ham soup, cold bacon fat and, in time, overripe pineapple. Who needs food? Water lightens and sharpens things with more lemon (of the preserved variety), a sherbety thing, and fruits (quince, apricot), privet blossom, and ginger beer. A tale of two aroma camps. Like it.  
Palate: A soft start with a little jag of heat, then baked apple but not at the expense of a thick character (oils! unguents!) which gives things an oddly blurry quality. It's sweet certainly but the fruits are dancing about in the background. Water? Softer, maybe it's too soft. A little dried apricot and more creaminess.
Finish: Ginger and lemongrass.
Conclusion:  … and this week's Ben Nevis… Either there's a big batch been dumped or it's evidence of this becoming a bit of a cult whisky. Maybe it's both but the owner hasn't realised. Anyhoo, this is worth a look. 
Rating: ***(*)
Brand: Glenglassaugh Peated, 6 years old, Bramble Whisky Co., 53.5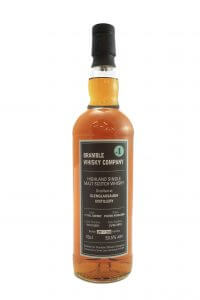 Nose: Big colour for its age, with a hint of struck match that's mixed with smoke – it's all very Nov 5th. In time, wet straw, Spangles (or another type of hard boiled sweet), oak, and dried fruit. Water doesn't affect its sheer solidity. This is a lump of a whisky (and I say that in the nicest possible way) with a big hint of spice, hot cross buns warm from the oven, resins and, finally, some woodsmoke.
Palate: There's more of the oak and smoke now, then big quite dry/earthy chocolate elements and a tiny hint of raspberry in the background – almost an afterthought. Enormous, chewy, and more expressive here than on that slightly monolithic nose.
Finish: Long, raisins, walnut.
Conclusion: Young yes but bottled at exactly the right time. Any longer and that first fill sherry would have obliterated it. 
Rating: ****
Brand: Glenrothes 10 years old, Dram Mór, 58%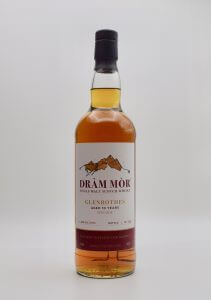 Nose: Has the cake-like aromas which you sometimes get with young Rothes (or maybe my daughter's baking again.. checks… no, it's the whisky). A sponge hot from the oven with a slightly crisped top, then a creamy, orange bitter icing background, golden syrup, and a touch of peach. In time – and again this is typical for Rothes at this age – some oatcake-like maltiness. In time, it gets more cask-driven. Although strong, it seems to shrink back if diluted too heavily. There's a flour-like dry dustiness. Keep it fresh and place the water on the side, for the neat nose is delightful.
Palate: Vibrant and a little hot, but you can discern light citrus, orchard fruits, a touch of dried lavender, then dry spiciness (how Rothesian). While it is tempting to add water to completely kill the burn, once again being over-enthusiastic will damage the balance.
Finish: Slightly minty. Continues to sweeten up. 
Conclusion: A rather delicious Rothes which performs best neat (and on the nose). 
Rating: ****
Brand: North British, 4.5years old, Bramble Whisky Co., 46%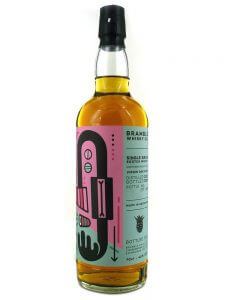 Nose: Well then… almond butter to kick off with, then comes an intense scented quality – woodsy cologne, a touch of sandalwood, masses of vetiver suggesting American oak at work. With a little water, things become more like clover honey, with some red fruit, more obvious sweet oak, coconut, mixed peel and an overall fatness.
Palate: A deceptively gentle start, with some sweet baked fruit. There's a slight rigid quality that adds a tension to the middle of the tongue, but then things relax and start to flow once again. It has an almost toffee like quality with only light touches of that vetiver. Water removes the tension and ups the chewiness, the coconut element (an oiled-up bodybuilder) and adds in marzipan.
Finish: Concentrated with touches of marmalade
Conclusion: Like watching trash TV with a tub of Ben & Jerry's cookie dough. It's been aged in a virgin oak cask, but is well balanced. Not even five years and at a crazily good price. Not many left! Connect to the Mothership immediately…
Rating: *****