I'm not a man for desserts, but put that aside for this week's tasting featuring drams from the sweet side. (Don't tell my dentist) Do try though – this was a great selection. Featuring two newies from Compass Box and a trio from Glenmorangie including its Tale of Cake 
Brand: Compass Box Hedonism Felicitas, 53%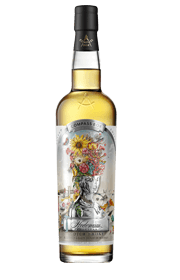 Nose: An elegant, mature nose gives a certain gravitas which underpins the aromas of chocolate, dried peels, yoghurt-covered raisins, and overripe banana. Things head towards rum, butterscotch Angel's Delight, and latte. It's rich and indulgent, with the soft power which you only get from old grain. There's even a slight oiliness. Water opens up the top notes, but also adds an autumn leaf rustle … and toffee. 
Palate: Certainly sweet, with super-ripe fruits, some lime and more of the cask influence becoming more apparent (light cedar, tea like tannins) but this more apparent structure is still balanced by a velvety texture. In time you get some of the unctuous fatness of corn. Add a little water and back comes the chocolate, some ginger, raspberry, and maple syrup as it becomes more concentrated on the back palate. 
Finish: Banana, a vegetal note, then ginger.
Conclusion: Is it really 20 years since Compass Box first shook things up? Congratulations!
Rating: *****
Brand: Compass Box Rogue's Banquet, 46%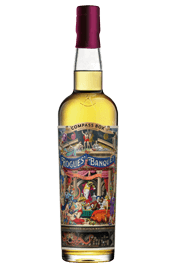 Nose: Sweet. Madeleines dipped in elderflower tea, mandarin and yuzu. Sweet oak is balanced with a basket of luscious fruits. You can just discern a grassy/green apple element, basil, then strawberry tart (with pastry), and honey flapjack. With water added there's touches of mature elements, alongside coconut, sweet chestnut, and a deeper, toasted element.
Palate: Quince-like, sweet and concentrated. There's lemon barley sweets, passion fruit, tinned peach, and lemongrass. It's spicier than the nose, with more of those roasted notes seen on the nose, but this is all about the silkiness of the fruit. Water dries it a little and I like this slightly more structured quality, with the spices reminiscent of a North African market.
Finish: Orange peel, pith, and bitters. More toffee with water more toffee. There's great grain at work in here.
Conclusion: Four whiskies: Miltonduff, Glen Elgin, Clynelish, and North British. The recharred from the first two adding that spicy element. Not in any way rogueish, but certainly a banquet. Hugely drinkable.
Rating: ****
Brand: Glenmorangie, A Tale of Cake, 46%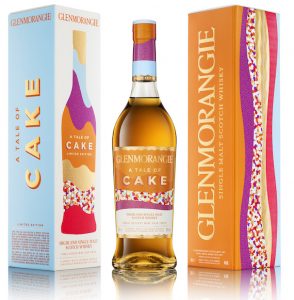 Nose: This is distinctly unusual and not just sweet wine + sweet whisky. Alongside the apricot and mango are red fruits, fresh pomegranate, and pumpkin. There is also a kernel-like element which balances the sweetness, and a very light nuttiness. The soft sweet fruits sit politely behind this intriguing savoury element. Water brings out musk, chamomile, stone fruits, as well as more of the honey and soft vanilla-accented 'Morangie fruits. Creamier, heavier, but still balanced.
Palate: More honey and cream with a liquorous texture. That said, the Tokaji continues to influence the direction adding some lovely balancing acidity, a hint of caraway. Water pistachio now adding sugared almond, mint and pineapple. Theres more of a grapefruit/orange citrus element as well. It's not as sweet as you might imagine.
Finish: Savoury within a soft flow.
Conclusion: Tokaji casks have been tried by other distillers and have rarely worked. This is a stubborn highly individualistic wine, sweet, yet acidic. This however succeeds. Complex, balanced… and different.
Rating: ****(*)
Brand: Glenmorangie Grand Vintage 1996, 43%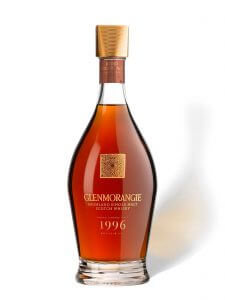 Nose: Surprisingly light on first encounter, coming over as a very decent, mature Glenmorangie with papaya, mango, and vanilla all dried and pulled back into an essence. It is delicate and requires concentration to pick out sweet cashew butter, some bbq pineapple, and banana fritters. It needs water to fully reveal its complexities. Now you can pick out (and see) the oiliness, some fruit trifle, almond milk. At this point you should leave it alone and go and so do something else. On your return one one hand it's become weightier, but also with a wider array of floral elements, with more day lily, the dusty/green rose accents of geranium, orange blossom, and marshmallow.
Palate: Very soft, quite gentle and very open. Discreet, lacy in texture with some touches of jasmine and osmanthus. There seems to be nothing hidden here and, to be honest, at first it's slightly underwhelming given the price tag.
Again, water is the key adding weight, caramel toffee, mint, coriander seed, apricots and the virgin rape seed oil. There's now a refreshingly sharp edge which gives a bite to the back palate. 
Finish: Light oak. 
Conclusion: Aged in the distiller's bespoke American oak casks.  
Rating: ****(*)
Brand: Glenmorangie 27 year old (1991), bottled for Loża Dżentelmenów 10th Anniversary, 55.9%
Nose: Something fascinating happens with Glenmorangie when it's given long ageing. The vibrant ultra-fresh fruits become more compressed, and move from the vivid colours of youth into something darker (boosted here by a long time in ex-sherry cask). Here this manifests itself as mocha, chocolate truffle, rosehip syrup, fig and dried peach. There's even an almost leathery quality. It's another one which needs time to open fully. Drier than you might normally expect, but the sherried element is balanced by a similarly heavy floral note seen on the Grand Vintage (here lily and orchid). Water brings out more dried fruit, tea and an almost smoky element. It's a little more earthy and waxy.
Palate: There are more overt cask-derived elements here. Mature, concentrated with lightly grippy tannins balancing the thick fruits: persimmon, orange zest, and sweet plum. Slightly off-dry with a little hazelnut. It starts to dry towards the back and water is probably not advisable as it's addition brings out a slight astringency. That said, there's still plenty acacia honey and tropical fruit.
Finish: Firm, with dried fruits, citrus, then softens and fades.
Conclusion: This has spent 15 years in first-fill ex-Bourbon cask, then 12 years in ex-sherry. Congratulations to the club and thanks to Piotr Stachura for the sample. Check out his website https://whiskymylife.wordpress.com
Rating: ****