A seven-strong roundup of some recent(ish) releases with malts both single and blended, sherry and wine casks and an axe-wielding former Prime Minister
Brand: Arran 24 year old (1996), TWE Exclusive, 53.4%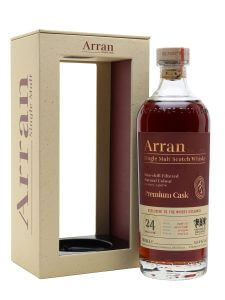 Nose: Massively resinous, the aroma moving to hoof glue/saddle soap, then some savoury red fruit, and an acidity which drifts into balsamic territory. Add water and you get raspberry vinegar, more resin and wild berries. A wine cask? Weird fortified wine? 
Palate: It's softer and sweeter than the nose with a light dustiness before some sap elements, orange bitters, gentian and then Kriek-like sourness which itself is balanced by pomegranate, rosewater and dark chocolate. Very intense. Water adds an almost phenolic quality.
Finish: Cherries and bright acidity. 
Conclusion: Dynamic and energetic, but with a wild sophistication. Highly recommended.
Rating: *****
Brand: Blended Malt, 19 year old, Whisky Trail, 45%

Nose: A heady mix of ripened soft fruits, dried apricot, clover honey, and chamomile, followed by a hit of oak, then a huge hit of apple skin, and orange juice (with bits) which in time starts to cook down into marmalade. With water added, you get more cask influence, and what seems to be a hint of smoke.
Palate: An almost shy start before rounded, stewed fruits appear, along with a lovely mix of currants and raisin adding a bass note. The fruit skin element seen on the nose is now Victoria plum. Has good length when neat, but does lose impact with water, so keep it neat.
Finish:  Sweetness again. Thickening.
Conclusion: Textbook stuff and rather stylish.
Rating: ***(*)
Brand: The Gladstone Axe, American oak, 41%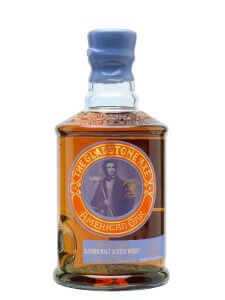 Nose: Clean and quite direct There's some crisp oak as well as a mashy cereal (Weetabix) note and, in time, some green fig, and crusty bread. Lightens with water.
Palate: A soft opening with those dry, nutty elements, balsa wood, then some rosemary. There's some darker fruits lurking at the very back, but a hollowness to the mid palate. Water however adds some weight to what was a slightly thin effect, giving texture and an almost oily quality. Less malt and more fruit. 
Finish: Medium length and fruity (with water added).
Conclusion: An easy-going blended malt from Biggar and Leith whose founder, Elwyn Gladstone, is the great-great-great grandson of William Gladstone who was noted for his collection of axes (as well as being Prime Minister of course).
Rating: ***
Brand: The Gladstone Axe, 'The Black Axe', 41%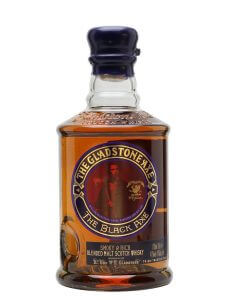 Nose: Like its brother, there's nuttiness upfront, though now with an added touch of creosote, some fig roll, and malt loaf. When water's added, you get more sherried elements, cereal, toffee, and a little struck match.
Palate: There's dried fruit, walnut oil, then mulberry making it balanced – though light. Again, there's greater coherence with a little water and some secondary flavours (milk chocolate fruit and nut).
Finish: Sweet dried fruit.
Conc: A solid, by the numbers, blended malt, but it could be bolder especially in the mid-palate. With such a cluttered market any new brand needs to be really different to make a mark.
Rating: ***
Brand: Glen Moray Warehouse 1, Tokaji finish, 53.6%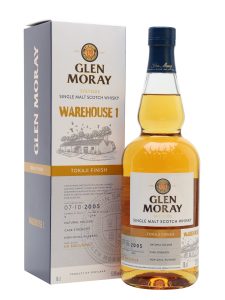 Nose: Mix of straw, nuttiness and baked fruit. Hot earth, peaches and pear alongside a light oxidation. Dry, and yet succulent. As it opens, so the stone fruits become more intense and the wine comes in a little more obviously, giving the distillery character a subtle shift in a new direction.
Palate: As with the nose, it starts dry, then there's a flooding of oxidised nuttiness, dried pineapple and a gentle upping of the sweeter elements, the Tokaji adding this unctuous element along with chalkiness, dried orchard fruit Lovely balance.
Water brings out more spice and stone fruits, bakery elements, and slightly more vinosity.
Finish: Succulent, but dry.
Conclusion: It's clearly whisky, but it's not 'whisky' in the conventional sense – and isn't that what you want? A real success.
Rating: ****(*)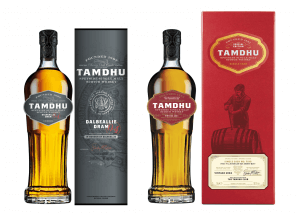 Brand: Tamdhu Club, single cask, 59.3%
Nose: A fragrant Tamdhu, with more of the distillery's floral side coming in: meadow flowers, honey, pineapple, but also malt and citrus peels, all combined in a heady muskiness.  There's no loss of that fragrant lift when water's added. If anything, there's a building of vetiver, tonka and cedar, adding to the fruit salad. Gorgeous.
Palate: The fact that's there's no great heat is amazing giving the poky strength. Instead, there's a thick feel that mixes cooked peach, Demerara sugar, creme anglaise, and then a hint of oak and malt.  The aromatics lift and add energy. Things remain bright and 'up' when diluted, along with some blue fruits. 
Finish: Grassy and tea like with some flowers
Conclusion: Beautifully balanced. Seek it out. 
Rating: *****
Brand: Tamdhu Dalbeallie IV, 61%
Nose: Sweeter and more overtly fruity than in some previous releases. As well as a lightly oaky creaminess, you get damsons and bramble balanced by cigar and walnut. There's no real heat, though in time you get an orris-like earthiness. Water stirs in treacle toffee and acidity.
Palate: Though things get a little hot, the flavours remain generous, mixing chocolate truffles, brambles, and black cherry, with petrichor and a hint of shiitake. Then, just as it seems set to continue down this path there's a leathery element adding an exotic element. Instead of astringency there's sweetness. Water gives it more grip and power.
Finish: Black fruits, some date and oak.
Conclusion: The Tamdhu a'Bunadh delivers once again.
Rating: ****(*)